For my first blog post EVER, I decided to list all the projects I have either in-progress or on my to-do/wish list.
1) embroidery on the neckline of one of my daughter's dresses -
Done :-)
2) heraldry: working on resubmissions for the Midhaven populace badge and the badge of the Company of the Tulip; name research for Libuše Makovička, and consultation for an augmentation of arms for Duchess Angharad. -
Midhaven resubmissions:
Done :-)
3) a haversack for my wife. It will be made of olive-green hemp with a wool lining. The front flap will be embroidered with a depiction of a knight, making obeisance to his lady, the artwork being derived from an illuminated folio in the Westminster Psalter (c. 1250). I may card-weave the shoulder strap on an inkle loom.
4) a sleeve to protect/contain a staff -
Done :-)
5) a reversible herald's tabard bearing the arms of the Kingdom of An Tir, and flipping inside out to bear the arms of the Shire of Midhaven
6) a belt favor bearing the herald's badge -
Done :-)
7) an An Tir ensign to fly at camping events
8) a song to honor those of An Tir who have passed into the next world
Potential other projects under consideration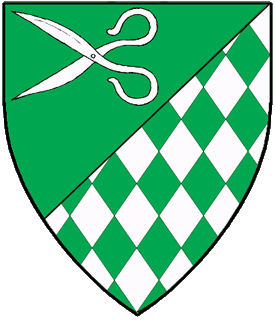 Lady Elewys Cuylter of Finchingefeld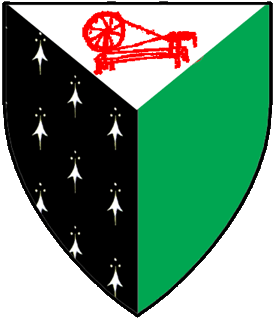 Martha at Gore
1) appliqued banners for Lady Elewys Cuylter of Finchingefeld and milady Martha at Gore depicting their heraldic devices
2) tablecloths, napkins, handkerchiefs, pillowcases, seat covers, blankets, etc. either embroidered with various heraldic emblazons or as practice for blackwork
3) a suit of mail armor
4) a shield
5) a heraldic surcote
6) a liripipe hood
7) a parti-colored cotehardie
8) class materials for use in teaching an Ithra class -
Done :-)
As you can see, I have a great deal of projects with which to keep busy.